A data gap may look like this on your 24-hour glucose trend.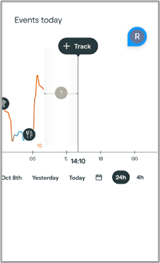 Lots of things can cause gaps in your glucose data. If you don't find a solution among these possible causes, tap the chat icon at the bottom-right of your screen to contact Customer Support.
Cause: Smartphone date and time reset
If you change time zones or the clocks change, your smartphone date and time will automatically reset. The app will show a gap in your glucose trend line, but you haven't actually lost any data.
Fix: If you change your smartphone date and time to the original setting, the gap no longer appears.
Cause: Signal loss
Is your smartphone within six metres of the biosensor? Or is a wall, door or your body blocking the signal?
Fix: Move your smartphone and biosensor to within six metres of each other. They'll reconnect automatically and the biosensor will backfill any gaps in data.
Possible Cause: Logged out of app or App deleted
If the app is deleted and re-downloaded, you won't be able to retrieve old data from your smartphone.
Fix: Your data is stored in the cloud. To access it, just log in to your newly-downloaded app.
Possible Cause: Bluetooth off
When your smartphone's Bluetooth is disabled, the biosensor can't send data to the app. There'll be a gap in the data for the duration of the period where Bluetooth is disabled. The biosensor keeps all your data and once reconnected, it will fill any gaps.
Solution:
iOS – On your smartphone, go to Settings > Bluetooth. Switch Bluetooth to the 'On' position.
ALB-CS-00028 v2.0 ©Abbott 2023. Lingo and related brand marks are marks of the Abbott group of companies.